Bloody red sunrise caught me on way to airport. In a while there was just a clear sky crossed by white condensation trails in prediction of good weather conditions and calm flight.
9.05 am, Praha Ruzyně airport. At nine we should have been boarding the plane for flight Prague-Amsterdam, but plane is still not anywhere to be seen. New terminal North 2 is nice, clean and comfortable, just TV is playing some awful music program. Lots of bored people in tha hall… I'm thinking of what did I forgot to pack, but I cannot recall anything. We'll see.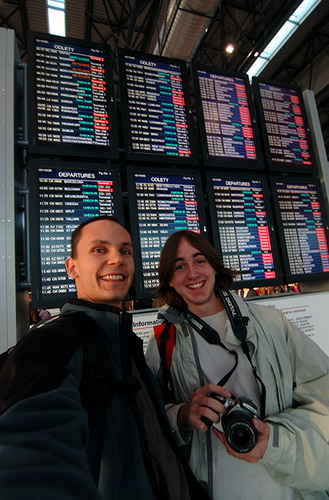 Me, Jakub and departure screen. Prague, Ruzyně airport, North 2 terminal.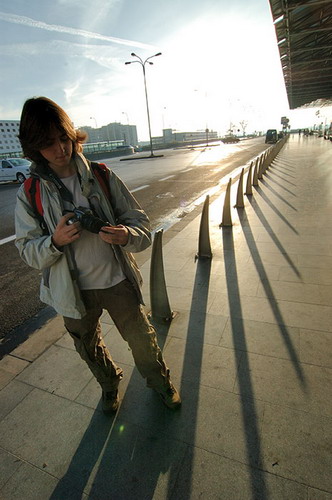 Jakub is examining camera in front of airport. A little late I think :)
Dispatch goes without problems, I just had to take off the belt. I'm lucky that my pants fits :). So no problems for us, but some Japanese guy had to show everything he got with him.
ISM (I shot myself) before departure.
At last we took of, at 10.18 am. Flight was in lower altitude and at higher speed, so we were informed by Captain, to shorten the time loss caused by technical problems. Flight was OK, seats above wing next to emergency exit gave us a lot of space for legs, stewadess were nice. Landing at Shiphol airport was gentle, flight took about 1.5 hour.
12.40, Schiphol airport, Amsterdam. Because of just one terminal I thought, that this airport would not be be large. I was mistaken, it's big. Really big. Infosigns from our arrival terminal to departure terminal said 10-20 min. Yes, 20 minutes walking inside one building. Scary.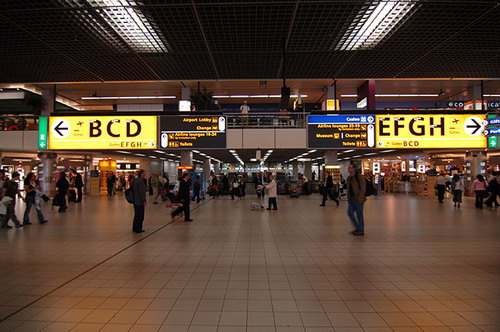 Schiphol airport, Amsterdam. Bigger, than we thought.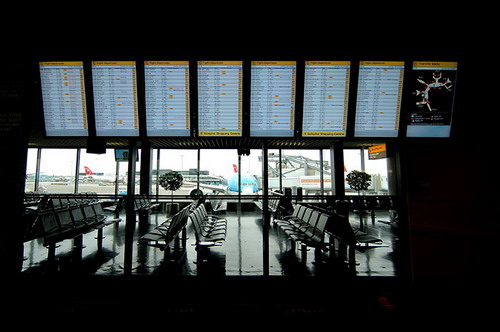 Schiphol airport, "waiting room".
I have to say, our's terminal (meaning Prague N2) is newer and nicer. But it lacks electrovehicles cruising halls, travelators (those flat escalators), car shops and tons of restaurants. And yes, at Prague I didn't see any Jumbo 747, there it seems that they don't know any other planes for change :)
While watching our plane, I had to say to myself, that we certainly will not be hungry on the way, because food was filled into plane from three trucks at once.
Departure on schedule, our Boeing 777 should arrive at Narita Airport in less than 12 hours.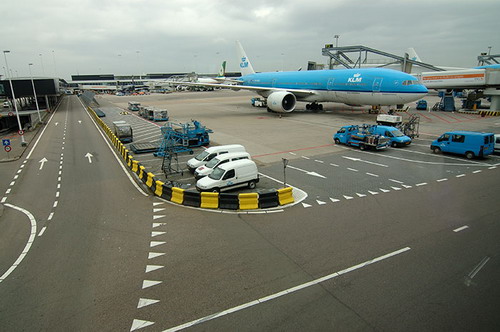 Our Boeing 777, ready to go – as we are.